1) My
101 in 1001
: last week I definitely drank a bottle of water every day and then some. I never really paid attention to if I did or not before, but now I am sure I must have done this before. I am well on my way to meeting the goal of one a day for a month.
I also wore makeup every day last week. Student teaching is really helping me with the makeup/water thing! I never really cared about wearing makeup when I dressed in jeans and a t-shirt and talked to four year olds all day!
Scott cleaned the fishtank last Sunday, and even though I had every intention of helping, I was engrossed in cleaning at the time and he got it all finished before I could help. I just need to make sure in 6 weeks it's done again!
I also painted the back office Saturday. Scott was out of town and I was bored out of my mind. I decided to go for the green color I wanted, even though it was scary because green has always been my least favorite color. It's grown on me lately, though. Here it is in action:
I think it brightens the place up a lot!
I also tried to catch up with friends and family, but everyone seemed so busy this weekend. My oldest niece, Krysten, who is almost seventeen (!!!) isn't much for words and I couldn't get ahold of the next two in line. Hopefully this coming weekend will be a better time for them. I really miss living closer to them and being able to see them grow up. I feel like I am missing out on their lives.
2) I added some things to my craft/office space to make it more cheerful! Here is what I did: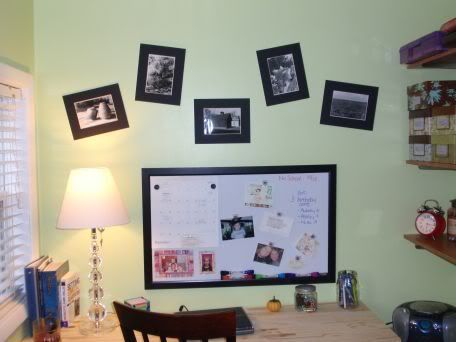 This is the desk as it is right now. I really like how wide it is so I can spread everything out. I want to paint or stain the top purple, but can't decide which to do yet. I also got the magnetic/dry erase boar and it is already very handy! Teh pictures above the board are my favs form a photography class I took in college.
I got some new things for my shelves- jars for my pens and pencils, etc., a bright clock and a new picture frame. I love the bright colors!!!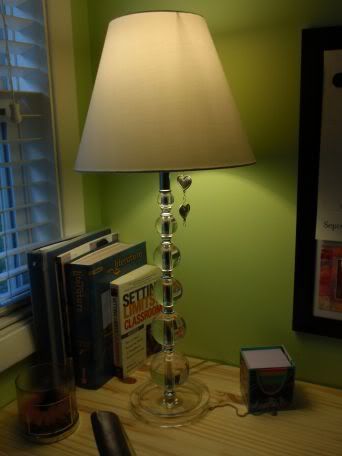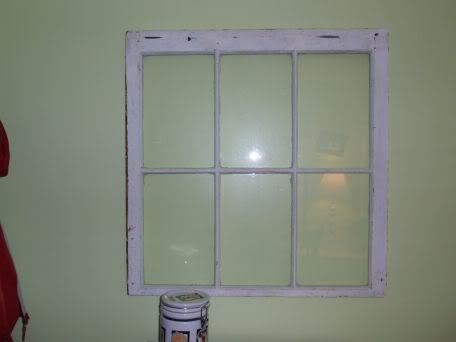 I also got the lamp I have been lusting for- Scott didn't like it when I suggested it for the bedroom a long time ago and I realized it will be perfect back here since this is my space! Yay! I also hung the old window I got at an antique mall about a year ago. I want to put a paisely patterned fabric behind it, but need to find the right one.
3) I decorated for Fall last week since last Monday was the first day of fall. I was so exctied!!!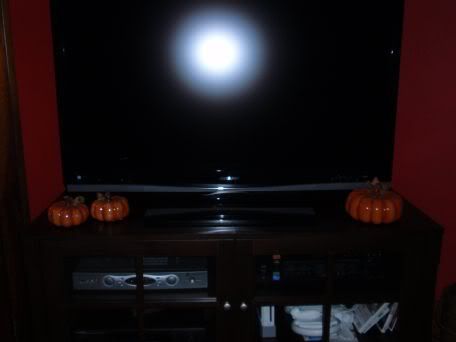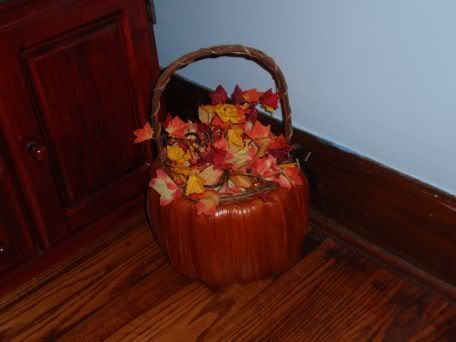 4) And lastly, I will leave you with a recipe. It was supposed to be a vegetarian recipe, but the hubs likes his meat, so I added some chicken breast. I call it Veggie Penne
-boil about 6 ounces of penne noodles (I use whole wheat pasta, so I cooked them for about 10 minutes since they will go in the oven later)
- cut up into same sized peices a small squash and small zucchini, and three large mushrooms (I didn't add mushrooms because I don't really like them. Scott does, but I left them out this time).
- cut up a small onion and mix in with the veggies
- add some herbs and olive oil to the veggies and put them on a lined baking sheet (I used rosemary and oregano)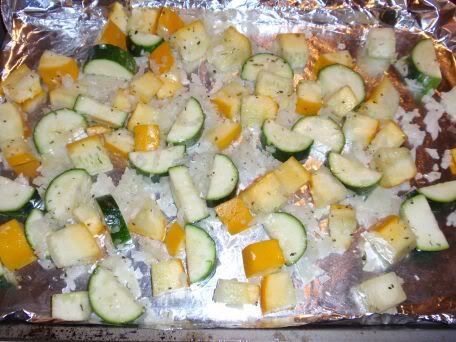 Bake this at 450 degrees for 15 minutes
- grate about 2 cups of your favorite cheese (I used mozzerella)
- get ready 2 cups of tomato sauce (I used prego sauce with garlic and onions), and 1 cup frozen peas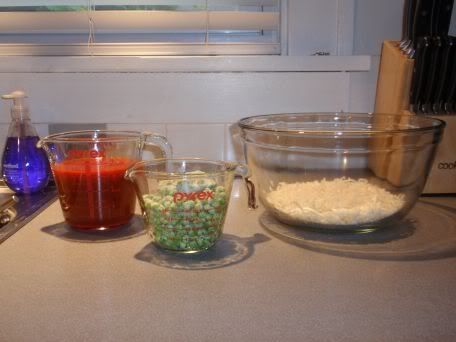 - in a large bowl, mix the penne, tomato sauce, peas, and cheese
- add the baked veggies to the top and toss (this is where you can add in the chicken if you want- I precooked my cubed chicken breasts in garlic and onions and then tossed in)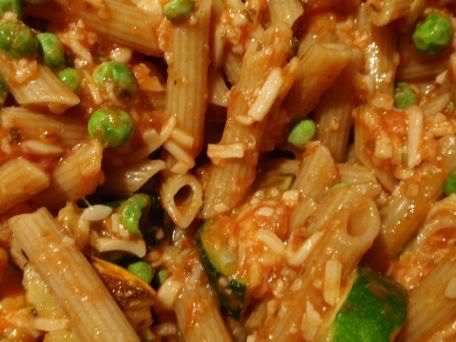 - put the mixture in a baking pan and top with parmesean cheese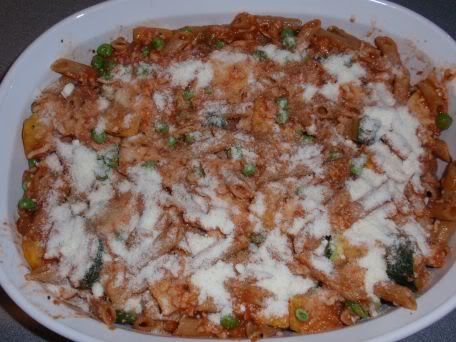 - place in the oven on 450 for an additional 25 minutes and enjoy!
It was super yummy!!! I got this recipe from
Everyday Italian
, but modified it a bit for my tast.