I love to try new recipes and have some favorites from family and friends. A while back I started to put all my recipes together in a binder. This has helped tremendously when I try to find something... So, here she is, and this is where she lives...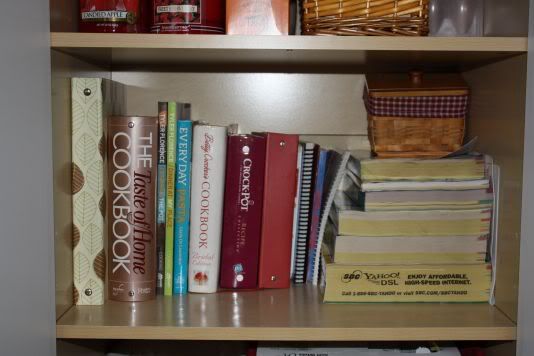 Isn't she cute? I tried to mimic a cookbook my mother-in-law gave me a few Christmases ago...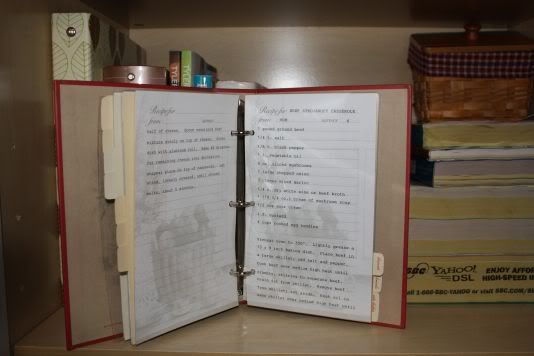 She typed out all of her kids' favorite meals from when they were little and compiled them in books for my sister in laws and myself. It is one of the best gifts I have ever gotten.
So, like she did, I divided the recipes into categories: Poultry, Beef/Veal, Pork, Seafood, Vegetarian, Sides, Desserts, Drinks, and Snacks.
Most of my recepies come from magazines I read (Real Simple, Kraft Food and Family) or cooking shows I watch (Everyday Italian, Barefoot Contessa, Tyler's Ultimate). If they are cut out of a magazine, I just insert the whole page into a page protector. If it is from a show, I write the recipe down, type it out, and print it. When I make it, I take a pic and then insert it in the file. I keep all of those in documents on the PC too.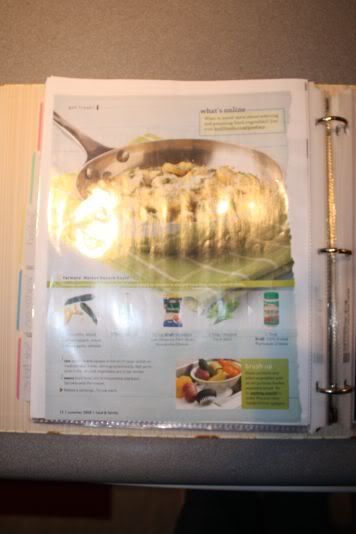 I also keep lists and helpful hints in the front of the binder... like organizing and money saving tips, or the recipes for my cleaning supplies.
So, there she is- my awesome (to me) recipe binder.