Ask anyone who knows me- I try to be VERY orgainzed. I think organization it a requirement for any teacher, but I have always been that way. I acutally think I have slacked off a lot in my old age :)
One area of orgainzation I really keep up on is the filing. Here is my office area, which I have shown you before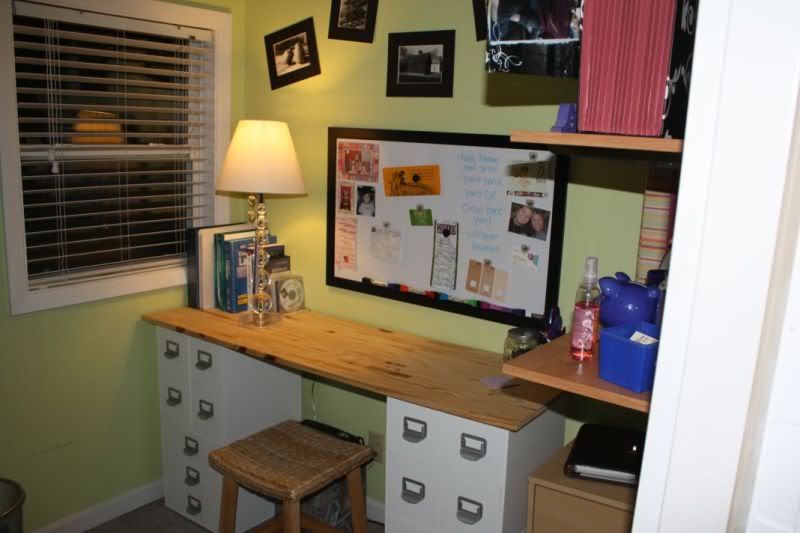 Do you see the tiny little two drawer thing on the bottom right? Yup, that's where I keep my files!
I know it's small, but it's mighty, and I sure don't want to get any more paperwork than can fit in that baby.
I file a great number of things: monthly bills and expenses, health records, pet health records, information and reciepts for our vehicles, mortgage and insurance information, tax info, 401(k) and TRS, etc. Things most people keep around for a while anyway. I think I could possible get carried away with keeping things, but I make myself go through the file cabinet a few times a year and deep clean it, and try to clean it once a month when I do bills as well.
To keep it down to two drawers, I only keep the essentials and shred the rest. In the bottom drawer, I keep the things mentioned above. I only keep one month's worth of statments from credit cards or phone and cable bills, and then shred the rest. I have also switched most of our statments to paperless (online) so that I don't have to deal with many of those anymore... and I keep one year's worth of electric and gas bills so that I can keep track of our usage since we are on a level payment plan with those.
Then there are the folders in the back that consist of the last 7 years of tax paperwork and reciepts. I do our taxes myself, so I am pretty meticulous about keeping all the paperwork for that.
The second, top drawer is for school and work files. I have a copy of my transcripts, Scott's schoolwork, important info from both of our employers, and I even have a file of cards and letters I have gotten from the students and parents I have had the past five years. I also have files in there for our computers, since they come with a lot of manuals.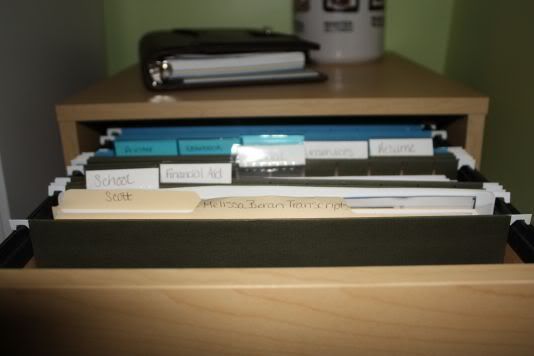 I have another system for keeping track of the rest of my manuals, but that is a whole different post :)
How do you keep track of things?